Disposable underwear has such wide and varied uses some essential and others non-essential. Depending on whether the briefs are cotton or polypropylene will help determine what they are used for. Disposable underwear is very practical and is designed with your convenience and comfort in mind. It can be worn and then thrown. Disposable Underwear is ideal when it is either impossible, inconvenient or impractical to wash underwear.   Disposable underwear can be used in a multitude of situations: Hospital Underwear ✔ Disposable briefs knickers, knickers and panties can be taken to hospital to avoid the possibility of running out of...
---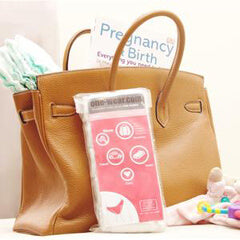 One of the vital components of the childbirth hospital bag is disposable briefs. Refer to our Buying Disposable Underwear Guide and leave plenty of time to order your briefs in case an emergency arises. Disposable briefs are made from two types of fabric: - Cotton and - Polypropylene. Most major brands of disposable maternity underwear are made from polypropylene which is an in-elastic fabric and not suitable for holding a birth pad in place. For this reason we would recommend cotton disposable briefs. The Supersoft breathable fabric will stretch to accommodate and hold the pad in place.   MOTHER's Childbirth...
---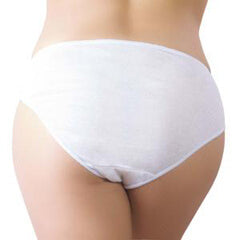 Fabric Quality In the section discussing the types of fabric disposable underwear we mentioned that 2 types of fabric are use: - Cotton - Polypropylene ( also known as PP, non-woven and paper) Buyers of disposable underwear should be aware that different manufacturers use different qualities of cotton and polypropylene to make their underwear. In some cases especially with briefs that are cheap the material may prove to be uncomfortable. The underwear may itch, make crackling sounds and may chafe the skin. Those who plan to use disposable underwear may wish to give a pair a test run first.  ...
---
Disposable underwear is a form of undergarment designed to be used / worn once and then thrown away. There are 2 main categories of disposable underwear: - Disposable non-woven and cotton underwear - Disposable incontinence underwear Disposable Polypropylene Underwear Polypropylene underwear is often referred to as non-woven underwear and is less commonly referred to as paper underwear. This can be quite confusing as 40 years ago disposable underwear was paper based. Polypropylene or PP for short is a thermoplastic polymer with very low density making it ideal in the production of lightweight disposable underwear Polypropylene fibres do not have elasticity...
---
  Luggage straps are very simple to use but there are 2 very important considerations people sometimes overlook. These mistakes are very easy to make because looping the suitcase strap is usually one of the last things people invariably do and they are usually in a rush at this point as they are busing looking for their passports or making sure they haven't left them behindFirstly, the luggage strap must pass through a bag handle as shown in the picture above and indicated by the red circle. A suitcase usually has two baggage handles so if one is broken you can...